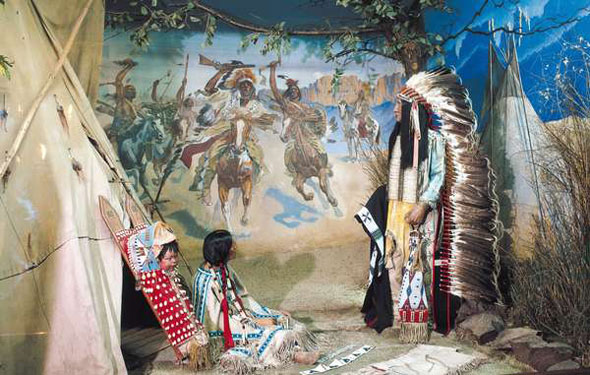 A German museum set up to promote greater understanding of Native American culture is embroiled in controversy after refusing to hand back American Indian scalps to their modern-day descendants.
The Sault Sainte Marie Tribe of Chippewa Indians from Michigan (USA) have urged the Karl-May-Museum Radebeul in Germany to return remains of their ancestors that have been on display there.
The Sault Tribe – also known as Ojibwe – are part of the Anishinaabe Nation and have told the museum, 'It is not acceptable for those remains to be stored in a depot and not re-interred to the Earth for a proper burial.'
Although the museum has now agreed to remove the items from display, they have pointedly refused to return them to the tribe, on the basis that it has not been proven which tribe the scalps originate from. The scalps are now apparently in storage in the museum.
The museum, based in Radebeul near Dresden and named after the popular adventure writer Karl May, possesses several scalps and spiritual items of the Anishinaabe (Chippewa) and other Native American nations.
Cecil Pavlat of the Sault Tribe said, 'Most museums who possess Native American Ancestral Remains and their Funerary Objects believe that there is not a scientific relationship between present day Tribal Nations and the prehistoric Tribal Nations. We believe that whether we are directly related or not, we the present day nations hold the responsibility of stewardship and accept the ultimate obligation to care for our Ancestors. We are at a point of open dialogue to present our point of view with the Karl May Museum. We will continue to pursue repatriation as this is the only acceptable solution.'
Survival International wrote to the museum in March 2014, asking it to begin a dialogue with the Sault Tribe to return the remains to their rightful owners.
Survival's Director Stephen Corry said today, 'It's not good enough for the museum to hide behind the fact that the precise origin of some of these scalps is obscure: they ought to make some effort to find out. In any case, Native Americans clearly believe that the scalps should be returned to USA and buried in a respectful manner, rather than sitting in a store cupboard in a museum.'
source: Survival International