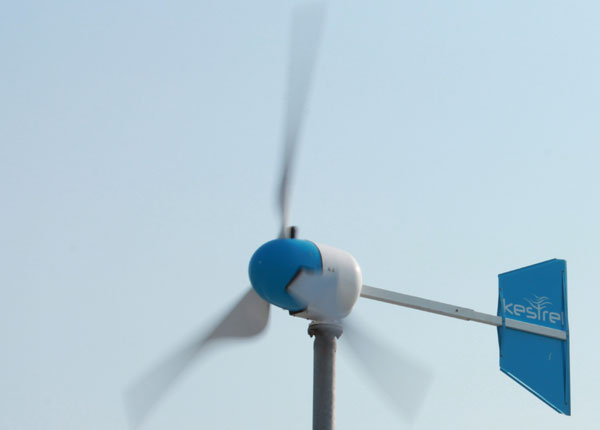 Homeowners can reaps huge benefits from the newest small wind turbine to complete certification for the Department of Energy and Climate Change (DECC) Feed-In Tariff (FIT) scheme. As well as being eco-friendly it will save money on energy bills and earn an income.
The certified Kestrel e400nb can produce 3,922kWh[1] annually, and with the FIT scheme paying 28p per kWh produced, you can earn £1,098 per year. It is verified by design to be a class one small wind turbine which means it has withstood 156mph winds making it ideal for the windiest UK coasts.
Conducted by MCS Certification (MCS) on behalf of the UK Government, it focuses on ensuring the quality of renewable technology installations and products.
"Solid returns from renewable energy, new technology and improved Government incentives, makes it easier to become less reliant on fossil fuels." Commented Kestrel Director Leon Gouws. "The UK Government's target for 20 per cent of the energy to be produced from renewable sources by 2020, and the certification process means people can support this vision, with knowledge their turbine is robust enough to withstand the toughest of winds, and is reliable to ensure consistent energy production."
The Kestrel 3.5kW small wind turbines are ideal for homes or small businesses with the available space for installation. Tested by TUV NEL in East Kilbride, Scotland, the small wind turbine was tested and withstands winds of 156.6mph.
A quick science lesson
Electricity produced by the turbine is processed by an electronic inverter and fed into the grid. The property is then preferentially supplied by wind power, and any shortfall during peak demand is supplied by the grid. The result is that your energy bill is reduced by the amount of wind energy that is harvested.
Your chosen installer will be able to recommend your potential energy production, earnings and return on investment using your property's co-ordinates.