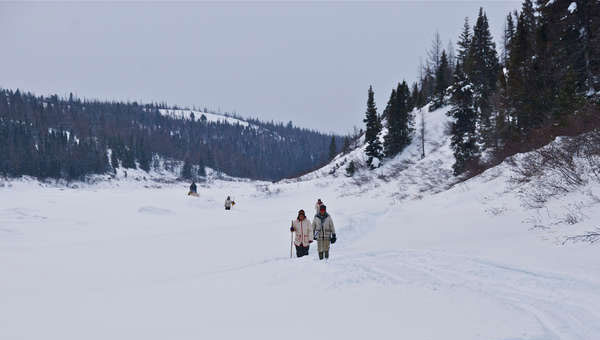 The Innu of north-eastern Canada are celebrating the completion of an historic 4,000 km walk through Nitassinan, their ancestral territory.
The initiative of a young Innu man, Michel Andrew (known as 'Giant'), the walk aimed to raise awareness of the Innu's escalating diabetes crisis and reconnect young Innu with nutshimit ('the country'): the taiga, tundra and rocky barrens that sustained the Innu for millennia.
Giant's walk began in the winter of 2009 as a solo journey; he left his community of Sheshatshiu with just an axe, toboggan, stove and tent.
During the final stage, approximately 40 Innu walkers joined Giant, crossing the frozen interior of sub-arctic Quebec and Labrador together. They ate caribou, partridge and porcupine hunted along the way.
Michel Andrew's walk is thought to be the first crossing of Nitassinan since the once-nomadic Innu were pressurised into settling in communities in the 1950s and '60s by the government and Catholic Church.
Celebrations are taking place in the Labrador community of Sheshatshiu on Wednesday 18th April 2012, in what is thought to be one of the biggest gatherings of Innu in recent years.
'There was zero diabetes among our people before, when our grandparents were living in the country, hunting and eating healthy country foods,' said Giant. 'Today, only a few families from my community go to nutshimit. They eat the white man's food – canned food from the store – and drink alcohol.
'It hurts me to think about it. I want my walk to show our people that our way of life in the country is a healthy life. Otherwise in another 10 years, what will happen? The whole community could have diabetes. Everybody could be losing limbs.'
Survival International's Director Stephen Corry said today, 'The walk has engendered self-esteem and collective pride in being Innu, which the government and Church tried so hard to erode. It shows that, despite the injustices and tragedies of recent years, the unique Innu spirit is still strong.'
source Survival International