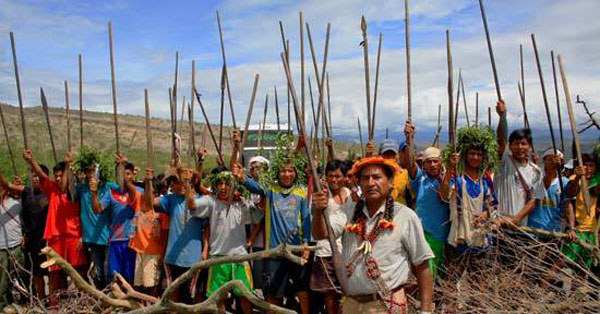 Peru has fired its top indigenous affairs official after she reversed an 'illegal' decision to allow Argentine gas giant Pluspetrol to enter land inhabited by uncontacted tribes.
Raquel Yrigoyen Fajardo has been replaced as head of Peru's government indigenous affairs unit INDEPA by a former lawyer who specializes in 'business ethics.'
Previous management at INDEPA had approved expansion plans for Pluspetrol's project, known as Camisea, and sent them directly to Peru's Ministry of Energy.
Ms Yrigoyen Fajardo posted details on Facebook about her 'abrupt departure' from INDEPA. She said there was 'no empirical basis' why proper consultation had not been sought, stressing, 'the worst thing is that this approval did not take into account the UN standards for the protection of indigenous peoples in isolation.'
Shortly after Yrigoyen was sacked, documents she submitted to INDEPA about the project's cancellation were removed from the organization's website.
Yrigoyen said her team left 'with our heads held high', and would redouble their efforts to uphold the rights of indigenous peoples.
Arturo Zambrano Gustavo Chavez will now lead INDEPA. His background is in law and business ethics. Yrigoyen urged her successors to adhere to international laws that protect tribal peoples' rights, especially ILO 169.
Survival's Director Stephen Corry said today, 'This speaks volumes about the government's dismaying attitude to tribal peoples. It looks like it could be just another ploy to muffle the tribal voice. Yrigoyen looked set to be the most pro-Indian INDEPA head for many years. We must hope her successor will be as supportive of Indian rights.'
Around 15 tribes resist contact in the Peruvian Amazon, and several are inside the Kugapakori-Nahua Reserve where the Camisea project is based.
It had been hoped that President Ollanta Humala's recent approval of an historic law recognizing tribal peoples' right to be consulted about projects that affect them would mark a shift in the government's attitude to its indigenous peoples, especially those living in isolation. source Survival International