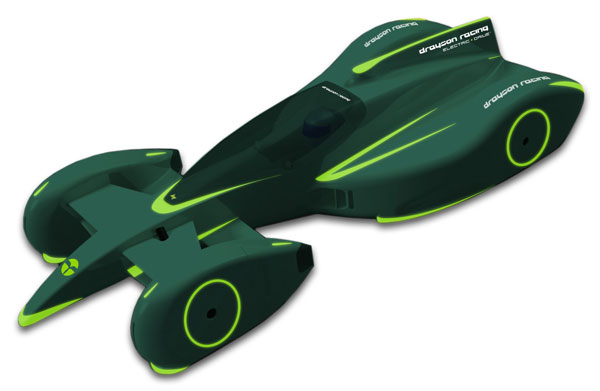 Drayson Racing Technologies (DRT), the company behind the 200 mph B12/69EV all-electric racing car that recently set a new electric record at the Goodwood Festival of Speed, is launching a unique competition with the Royal College of Art's prestigious Vehicle Design programme in London.
The competition will see first year MA students competing to design a concept for the Drayson Racing car that will run in the FIA's new ground-breaking global Formula E electric racing series. Students will be able to take inspiration from a previous DRT Formula E concept, penned by celebrated racing car designer, Sergio Rinland.
The award will run as part of the curriculum, starting this term. It will cover styling trends and themes within the constraints of racing regulations. The project will also include a series of workshops and lectures on crucial design areas such as aerodynamics, engineering packaging, production engineering and materials, in collaboration with the Drayson Racing team.
Lord Paul Drayson, Managing Partner of Drayson Racing Technologies, is a passionate advocate of the role electric motorsport has to play in pushing forward the boundaries of electric vehicle technology. Drayson Racing Technologies was recently appointed Scientific Advisor to the Formula E electric racing series.
Not only will the winning designer receive a prize, they will also get to see their ideas brought to life by the Drayson Racing engineers as part of the future evolution of DRT's pioneering work in electric motorsport.
Professor Dale Harrow, Dean of the RCA School of Design and Head of the Vehicle Design programme said: "We are delighted that Drayson Racing has chosen to support the RCA's Vehicle Design programme in this way. As an inspiring project with ground-breaking ideas in the field of motorsport and electric technology innovation, I am certain that our students will learn much from this exciting relationship.
"One of the things that makes the RCA Vehicle Design programme so special is its ability to offer students unexpected challenges and fresh insights that will inspire creativity and empower individuals to create original and outstanding work. The Drayson Racing Award provides such a challenge and is one that is already creating a lot of excitement at the College."
Sergio Rinland, Managing Director of Astauto Ltd and designer of a Drayson Racing Formula E concept car, said: "This is a great opportunity for RCA students to apply their talents to the exciting new challenges presented by electric vehicle racing and it's terrific to see people helping to develop the talents of tomorrow's electric vehicle designers."
Lord Drayson added: "The RCA has a global reputation for nurturing world-class talent in vehicle design and is an institution that I admire greatly. This new partnership will see us working closely with the students both to inspire them with our vision to be a world-leader in electric vehicle design and to share with them the insights we have gained from working on the B12/69EV electric racing car. We are keen to use the B12/69EV project to inspire innovation in vehicle design and excite a new generation of design engineers and this award aims to do just that."
To find out more, the RCA and Drayson Racing Technologies are holding a special media event on 27th November, when journalists will be able to talk to Lord Paul Drayson and Professor Dale Harrow, meet the students and Drayson Racing Team members and take an exclusive behind-the-scenes tour of the RCA's vehicle design studios.