Danish navy declares 500m exclusion zone around controversial oil rig.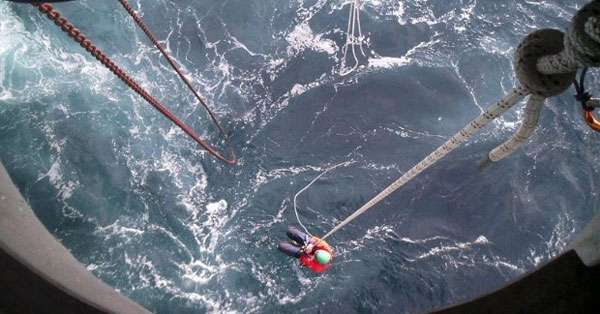 Greenland, Monday 30th May 2011. – Global carbon emissions have reached the highest levels ever despite the economic downturn, according to figures from the International Energy Agency reported in today's Guardian newspaper. The surge has raised concerns that the target of avoiding a dangerous 2C rise in global temperatures is "almost out of reach".
Greenpeace activists are currently hanging in an arctic survival pod from the underside of a giant rig in the arctic to prevent it from dangerous deep water oil drilling, which threatens to devastate the unique arctic environment and undercover even more climate changing fossil fuels. They have enough food and water for 10 days.
Greenpeace International campaigner Ben Ayliffe, who is on the Greenpeace ship Esperanza within sight of the world's most controversial oil rig in deep water off the coast of Greenland, warned:
"The global surge in climate pollution means the carbon tipping point is very nearly upon us. The oil rig I am looking at now and that our activists are preventing from drilling represents the crazy thinking that is bringing us to the brink of runaway climate change. Instead of seeing a warming arctic as an ominous warning they treat it as an invitation to drill for more climate changing fossil fuels, threatening the arctic environment in the process.
"The Arctic oil rush is only underway because the ice cap is rapidly retreating due to climate change. This really should be the moment when we decide to shift course. We now know with some certainty that if we don't, we face a grave and uncertain future. If we choose to grasp the potential of new clean technologies we could curb some of the worst impacts of the warming whilst creating new jobs and industries. "
At 3am local time yesterday a team of expert climbers carried in inflatable speedboats climbed the 53,000 tonne Leiv Eiriksson. They avoided a Danish warship that had been shadowing the Greenpeace team for days, having been sent to keep the protesters from the rig. The climbers set up camp a few metres from the huge drill-bit that Edinburgh-based Cairn Energy hopes will strike oil in the coming weeks. If Greenpeace can continue to delay drilling for just a short time, Cairn could struggle to meet a tight deadline to complete the exploration before winter ice closes in, forcing it to abandon the search for another year.
The Danish warship this morning declared a 500m exclusion zone around the rig as a tense stand-off continues.