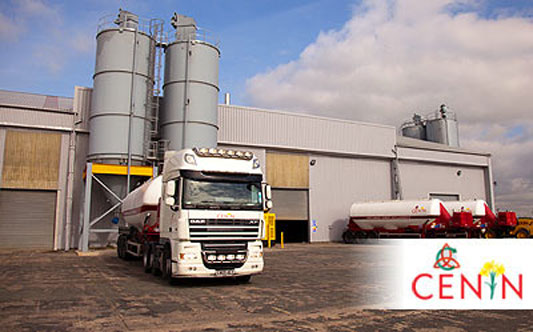 Cenin, the pioneering company manufacturing ultra low carbon cement replacement products, is planning the next stage of its development of the Stormydown research facility where it operates.
The Bridgend-based company has ambitious plans to be self-sufficient in energy terms by generating all its own power on-site.
Subject to planning permission being given for a wind turbine to add to its solar power facility, it will be the first centre in Wales, to generate electricity from mixed use of renewables at this level.
Cenin was founded by entrepreneur, Martyn Popham, to commercially develop an award winning technology invented by Gary Hunt. There is huge interest world-wide in developing low carbon alternatives, to help countries meet the stringent emission reduction targets set for 2050.
The award-winning green technology Cenin uses is a spinout from research at Cardiff University.
"The problem with traditional cement is that it's emits large volumes of CO2 and involves the quarrying of large volumes of raw materials," explains Martyn Popham.
"Our products are made using industrial by-products and create 95% less C02 than conventional cement and also reduce the amount of waste going to landfill by recycling waste products."
"Crucially, our products are cost-effective, so they don't cost the earth in more ways than one."
"Globally, countries are having to reduce their C02 emissions; therefore the market for Cenin's products is potentially huge. We have already had delegations from both China and Japan visiting us," he continues.
" The derelict former airfield at Stomydown was bought in 2006, and it has been extensively cleared. The aim is to attract other low-carbon enterprises, such as businesses involved in renewable energy, advanced recycling and R&D, to locate there."
"Our objective is to create a small group of low-carbon businesses. By generating power on-site this cluster of green enterprises can share this resource, as well as sharing infrastructure, a proposal that makes economic and environmental sense."
"Our proposals also fit in with the local council's action plan to improve sustainability and promote the generation of renewable energy, as well as fitting in with both the Welsh and UK Governments' plans to dramatically reduce global emissions," he adds.