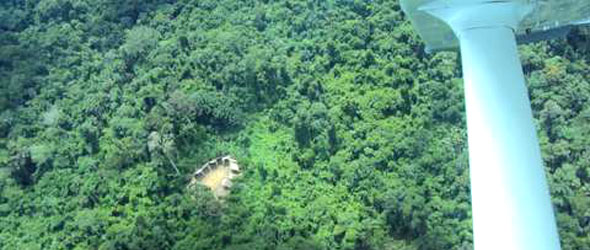 Survival International has released new pictures of an uncontacted Yanomami village in Brazil, 20 years after one of its crucial campaigns created the biggest forested indigenous territory in the world.
Survival International, Yanomami leader Davi Kopenawa and Brazil's Pro Yanomami Commission were instrumental in securing the victory.
These new pictures emphasize how important the territory is in protecting the Yanomami from goldminers who devastated the tribe in the 1980s.
The 'Yanomami Park' is one of many initiatives spearheaded by Survival International. In a new section of its website, it highlights how the time when entire peoples could be wiped out without anyone noticing is drawing to a close.
Survival's Director Stephen Corry said today, 'Survival's supporters can be immensely proud of the success that this sighting represents. Of course many tribal peoples, including the uncontacted Yanomami, are still threatened by the illegal occupation of their land, so we can't afford to give up the fight. The very existence of uncontacted Yanomami, however, proves that persistent campaigning pays off. Here's to many more such victories.'
The Yanomami suffered years of oppression at the hands of gold-miners. Violence and disease saw their population fall by 20 percent in just seven years.
Brazil's government announced its decision to outline the borders of a Yanomami territory in November 1991. It was signed into law the following year.
These new pictures, taken by Yanomami for their association, Hutukara, show how uncontacted members of the tribe continue to live in the Amazon, building traditional malocas at the heart of their communities.
But whilst recognition of Yanomami land rights has improved conditions for the tribe, very real threats still exist. Illegal goldmining camps continue to operate just 15 kilometers from uncontacted Yanomami.
Illegal mining on Yanomami land transmits deadly diseases like malaria and pollutes the rivers and forest with mercury.
At least 800 people from Brazil's army and police force are now involved in a mission to remove illegal goldminers. It has been reported that so far 30 have been evicted.
source: Survival International