Ranchers caught red-handed – from space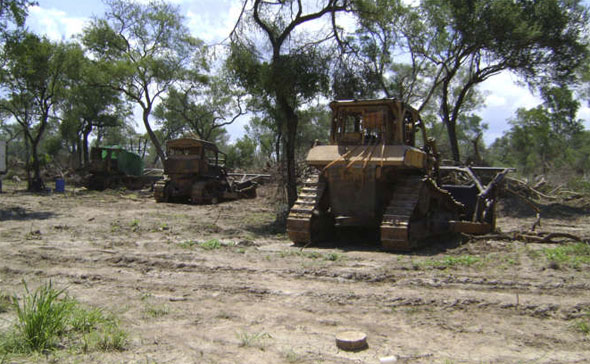 Wealthy landowners in Paraguay have been caught red-handed after newly-released satellite images showed their startling destruction of almost 4,000 hectares of forest – which is inhabited by uncontacted Indians.
The Brazilian-owned companies, River Plate S.A. and BBC S.A, were busted in a secret operation by state and indigenous authorities in the Chaco region of northern Paraguay.The area is home to the Ayoreo-Totobiegosode, South America's last remaining uncontacted tribe outside the Amazon.
The majority of the Indians' ancestral land has been taken over by private landowners for cattle ranching. Now settled members of the tribe fear for the lives of their uncontacted relatives.
Ojnai, an Ayoreo man, told Survival International, 'I am very worried about this destruction because we don't know where exactly the people still in the forest are living. I have a sister among them. This is why we don't want the outsiders to destroy more of the forest with their bulldozers.'
Paraguay's Indigenous Institute, INDI, recently declared that a separate plot of 34,000 hectares bought from ranchers would be handed over to the Ayoreo, but a date is yet to be set.
Negotiations with other companies, including another Brazilian firm, Yaguarete Pora, have so far been unsuccessful as the beef barons refuse to sell back the Ayoreo's ancestral lands.
Survival International's director, Stephen Corry, said today, 'These ranchers, much like the Totobiegosode, have nowhere left to hide. Satellite imagery makes it almost impossible for widespread deforestation to go unnoticed, but authorities must act before this happens, not after the forests have already been torn down.'
source Survival International