Volkswagen Presents Greenest Golf Of All Time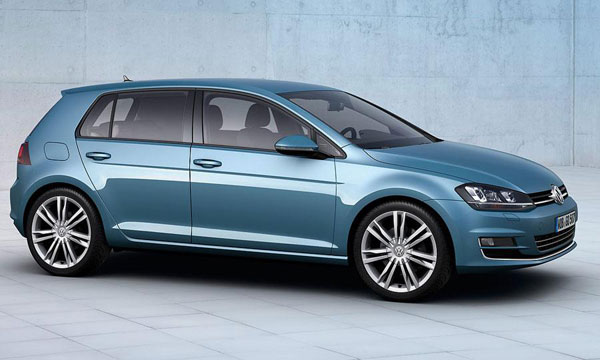 – Group rejects Greenpeace accusations
– Golf is genuine three-liter car
– Climate-friendly fuel-saving technology is standard
– 31 Group model variants emit less than 100 g CO2
Today, Volkswagen presented the seventh generation of Europe's most popular car in Paris – it is the greenest Golf of all time. In view of criticism by some environmental activists, the car maker renewed its claim that the new series with its optimized fuel consumption also includes a three-liter version and significantly raises the bar when it comes to environmental compatibility. Allegations that Volkswagen does not make any progress with regard to becoming more environment-friendly, are unfounded and made up out of thin air.
Volkswagen is thus demonstrating that the Golf not only embodies the brand claim of "Das Auto" (The Car), but is in fact "The Green Car" – without compromising on safety and ride comfort. With the market launch of the new Golf, the Group is asserting its leading technological role in all relevant power output and fuel consumption categories in the compact class. The vehicle's weight has been reduced by up to 100 kilos, and fuel consumption – and thus CO2 emissions – have been reduced by up to 23 percent. An environmental commendation certified by the TÜV technical inspection authority confirms a significant improvement in the eco-balance over the entire life cycle compared with the predecessor model.
The most fuel-efficient engines offered at launch consume 3.8 liters of diesel, corresponding to 99 g/km CO2 (1.6 l TDI with 105 PS) or 4.8 liters of petrol, equivalent to 112 g/km CO2 (1.4 l TSI with 140 PS). The BlueMotion variant will consume only 3.2 liters and emit 85 g/km CO2. Fuel-saving technology such as the Stop/Start system and brake energy recovery come as standard, so they do not generate additional cost.
The Group's program now already includes 31 model variants with emissions of less than 100 grams CO2 per kilometer. Volkswagen stressed that it remains willing to hold an open dialogue with critics, but that it had to be objective and fair. Loud PR actions and false pretences do not help anyone – least of all the environment.
Volkswagen has set its sights on becoming the world's most ecological automaker by 2018. To that end, over two-thirds of investment totaling €62.4 billion for the period to 2016 will be spent on ever more efficient vehicles, powertrains, technologies and environmentally-compatible production. The Group has voluntarily committed to a CO2 target of less than 120 grams per kilometer by 2015. Each model generation will be 10 to 15 percent more fuel efficient than its predecessor. Production will be ecologically restructured by 2018, with energy and water consumption lowered by 25 percent each, and waste and emissions also reduced by one quarter each. Greenhouse gas emissions in production are to be reduced by 40 percent by 2020.