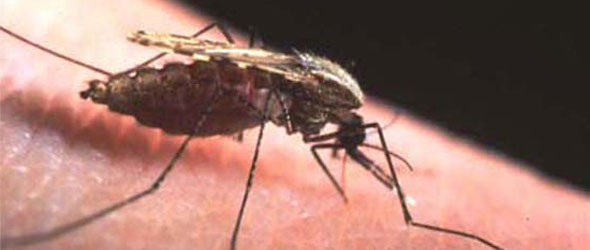 Durban – The geographic range of malaria could more than double in the next 50 years, putting almost eight million people at risk – five million of whom did not previously live in areas at risk from malaria in Southern Africa.
The incidence of malaria could increase with the expansion of habitats suitable for mosquitoes that transmit malaria.
Increased surface temperatures could lead to mortalities and higher incidences of infectious diseases and respiratory diseases.
The gloomy forecast emanates from the South African country programme study mentioned by KwaZulu-Natal Premier Zweli Mkhize in his address at the Pre-COP17 summit, which highlighted the devastating effects of climate changes in the country's own backyard.
Mkhize warned that an increase in pests and diseases attributed to climate change, would also have a detrimental effect on the agricultural sector, and invasive plants could become a greater problem.
Climate change may also alter the magnitude, timing and distribution of storms that produce flood events. The rise in sea levels has resulted in developed areas being reclaimed by the sea and submerged under water surface.
Water shortages
It is predicted that by mid-century, 50 -100 million people in southern Africa may experience water shortages. Sea-level rise will cause increasing salinisation of groundwater and estuaries, leaving less freshwater for humans, agriculture and ecosystems.
The rivers, dams and freshwater sources within KwaZulu-Natal account for almost 40% of all the water within South Africa.
An evaluation of the status of the river eco systems revealed that all of the major rivers within KwaZulu-Natal are vulnerable, including the Mzimkulu, Mkomazi, Mgeni, Tugela and Pongola Rivers.
These will need to be rehabilitated and managed as key environmental corridors within the province.
Apart from the vulnerability of the major rivers, the Slang/ Bivane River (between Volksrust and Utrecht ) as well as the Mzinene, Wya and Nyalazi rivers flowing into Lake St. Lucia are recorded as the most endangered river eco systems within the province and will require intervention.
Food security
In southern Africa, it is expected that climate change will diminish productivity of cereal crops and livestock. There may be local extinctions of various species of fish in rivers, lakes and coastal areas that live near to the edge of where they naturally occur.
Other marine resources will also be negatively affected, such as those associated with coral reefs (on the east coast of Africa). Thus, communities dependent on fish and other aquatic resources will be impacted.
"The province, however, still has the potential to ensure food security for its vulnerable rural communities as well as its growing urban populations through effective and sustainable land management," said Mkhize.
Hydro-electrical potential in KZN
Between 1970 and 2004, global greenhouse gas emissions increased by 70%, from about 29 to 49 billion tonnes. Most emissions come from burning fossil fuels – coal, oil, natural gas – to produce energy for electricity, heating, powering industry and fuel for transport.
Energy is critical to virtually every aspect of economic and social development, contributing to about 15% to the country's gross domestic product (GDP).
Climate change has altered the way in which countries view economic growth. Nations are increasingly being held accountable regarding their carbon emissions and thus must explore cleaner sources of energy, said Mkhize.
The province does not currently produce its own electrical power and the economy has an energy intensive coal based nature.
"The growth and development of KwaZulu-Natal requires that the province becomes more self-sufficient in its electricity production as well as to use its unique environment towards the production of electricity from alternative and more renewable resources," said Mkhize.
The province is said to have some of the highest hydro-electrical potential within South Africa due to the velocity of the water flow in its rivers, as well as the escarp of the Drakensberg providing the best localities.
"Both macro and micro hydro-electricity production has a significant potential in the province… Other forms of alternative energy production such as wind, solar and biomass generation have also shown potential within the province and could further be explored as part of the solution to climate change," said Mkhize.
The way forward
Mkhize said South Africa's New Growth Path should encourage the opportunities of the "green economy" as a way of creating more jobs, fighting poverty and ensuring food security.
The provincial government has partnered with the Wildland Trust and NGOs to mobilise a large number of people to get jobs through the rehabilitation of the environment.
The province has continued to promote its "One Home, One Garden and One Tree" campaign and is encouraging schools, churches and business to create their own gardens.
A waste collection campaign, focusing on recycling industries of various materials, has been also been launched.
"We are finalising a proposal for the cleaning of river banks which have been badly polluted, especially through industrial pollution as well as unplanned informal settlements and uncontrolled waste disposal causing river contamination," said Mkhize.
There is a programme for reforestation and the planting of one million indigenous trees and fruit trees in the next five years extending to all districts in the province.
"The main objective is to create many jobs through tree-'prenuers'," he said.
Many municipalities have started a programme of using solar heaters for geysers and rain water harvesting, especially in rural areas where water is scarce.
"The Provincial Planning Commission is analysing the wind channels in the province and sunlight intensity and has started a number of pilot programmes to encourage independent power producers using wind and solar energy production," Mkhize said.
"We are also looking forward to the necessary legislative framework for creating the integrated bio-ethanol quota to encourage agricultural production of bio-fuel, which the province will be very keen to participate in."
The Provincial Planning Commission has been instructed to re-designate the province into three areas to guide the issuing of Environmental Impact Assessment certificates.
"We believe this approach will create the necessary balance between developmental imperatives and environmental conservation," Mkhize.
There are also plans to create a Blue Line to guide a community march, spearheaded by various leaders, in the period leading up to COP17. The Blue Line will represent a possible future beach line in the event that sea levels rise in the future. – BuaNews