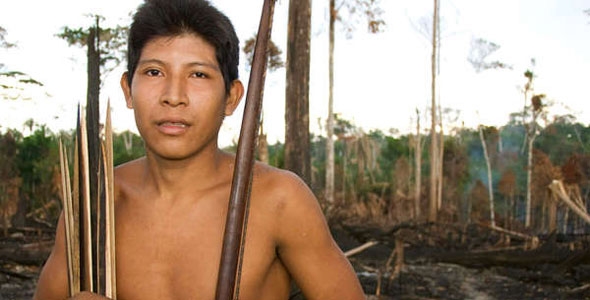 Calls are growing to stop 'a real situation of genocide' inside Brazil's Amazon, as the UN marks International Day for the Elimination of Racial Discrimination.
Experts warn Brazil's Awá tribe will face extinction unless more is done to protect their land rights, which are being abused by illegal loggers and cattle ranchers.
The UN wants the 'dignity and rights' of human beings to be respected globally, however many indigenous communities continue to suffer from ethnic hatred.
The Awá are a small tribe of around 355, who have survived brutal massacres. They live in the eastern Amazon, and are one of the world's last remaining nomadic hunter-gatherer tribes. Some members of the tribe remain uncontacted.
The Awá depend on the forest for everything, but it is rapidly disappearing as intensive logging destroys their land.
Bruno Fragoso, from Brazil's National Indian Foundation (FUNAI) says, 'The Awá are facing increasing invasions and if rapid emergency measures are not taken, the future of this people is extinction.'
A Brazilian Judge, who visited the Awá territory to investigate the situation also says, 'We are dealing with a real genocide.'
Similarly, a survey carried out by anthropologist and Awá expert Dr Eliane Cantarino O'Dwyer concluded, 'The Awá are facing a real situation of genocide.'
The Awa's forest is facing one of the highest rates of deforestation of all indigenous areas in the Amazon. Satellite images show over 30% of the rainforest in one of four territories inhabited by the Awá has already been destroyed.
Experts are especially concerned about the impact these land invasions are having on unconatcted Awá, who are particularly vulnerable to disease.
Survival International's Director Stephen Corry said today, 'The Awá are the world's most threatened tribe. If their rights are not protected, they'll only exist in the pages of history books. The UN's call to wipe out racial discrimination is one step towards changing attitudes, and helping to keep the Awá's forest home intact.'
source: Survival International