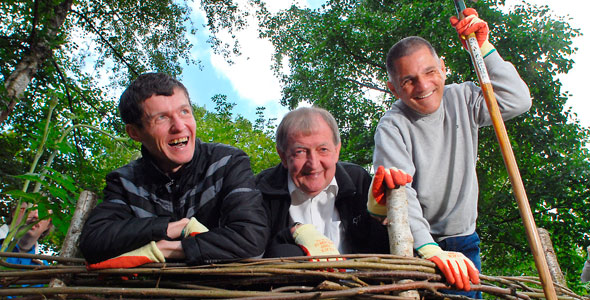 A group of conservation volunteers has been given a helping hand to buy essential equipment  thanks to Mead Property Management.
The Venture Out Cardiff Community Group, which operates under the BTCV umbrella,  has been running for three years, and provides opportunities for adults with disabilities.
Sadly, the group no longer receives funding.
The group is starting to carry out important new projects, restoring the nurseries at St.Fagan's, and improving woodland areas at the BTCV base at Forest Farm, and needed new equipment to do so.
"The group work very well together, and are very enthusiastic about taking on a wide range of enterprises, but the lack of new equipment is a drawback," explains Stephanie Thompson, Cardiff Community Project officer.
"Over the years the group has engaged in a number of activities, and have learnt traditional skills such as willow weaving to make hurdles for the Forest Farm grounds, dry stone walling and coppicing."
"Just as importantly, the group, which caters for a broad range of ages and abilities,  helps promote confidence, enhances social skills and knowledge, and provides a springboard for people to go on and do other things."
The project getting underway at St.Fagan's will help restore the nursery area, so that it can be used to grow plants for the grounds once more.
At Forest Farm, undergrowth is being cleared so that new areas can be used for cultivation.
"It doesn't take long for weeds, and vigourous plants like bamboo to take hold, so the work the group is doing is invaluable," says Stephanie.
"We are always looking for support to help keep the group moving."
Roger Tucker, MD of Mead Property Management, adds.
"This is a very successful project, and I'm glad to have played a part in helping things along. BTCV is an outstanding organisation, and has an excellent reputation for making things happen."