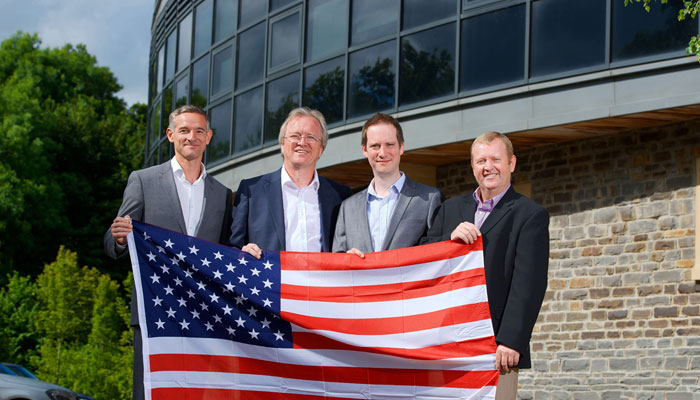 Specialist energy management company RUMM, has signed al multimillion pound deal in the USA, licensing the company's technology and methodology.
RUMM – remote utility monitoring and management –  based at Tredomen Gateway in Ystrad Mynach, is a spin-out company from the University of Glamorgan (now University of South Wales), formed in 2005.
RUMM has developed its unique offering through the research it has undertaken over the past decade. The company remains research active to develop innovative products, technologies and services.
The company works with customers across the industrial and commercial sectors to make significant savings in energy costs and carbon.
To date, RUMM has worked with major companies throughout the UK, these include Amtico, Zodiac Group, Welsh Water, the Celtic Manor Resort, Cardiff Metropolitan University, and Yuasa Batteries.
The opportunity for RUMM's US expansion came via its Coventry-based customer, Amtico, which has another facility in Atlanta.
RUMM co-founder and sales director Jamie Watkins comments,
"This was the opportunity  we needed to take the business global. We worked on a project in Atlanta with the  group manufacturing director, demonstrating the benefits of RUMM's approach.  This became the  basis for the newly set up RUMM USA LLC. The licence agreement is the result of 18 months' work."
RUMM chairman and co-founder,  Dr Steve Lloyd,  has been involved in energy management since 1984.
He says,
"Large consumers – those with energy bills over £250k per annum  – benefit hugely from the substantial energy savings we can make for them by installing the appropriate technical infrastructure and supplying specialist resource."
The USA contract represents a huge business expansion, and the company will be recruiting staff both in Wales and the USA.
"This is a ten-year contract that will see RUMM's specialist technology and methodology rolled out over the entire United States," confirms Dr.  Lloyd.
"It is a significant milestone in RUMM"s career, and one we aim to build on by exporting our expertise to other countries."
Tony Dalby, president and CEO of RUMM-USA LLC adds,
"I am delighted to be involved in the formation of RUMM-USA,   delivering proven energy solutions to the US market.
"RUMM-USA will reduce energy consumption and costs, giving our customers a competitive advantage. Our goal is to be the premiere energy management option available to US businesses.
"The remote utility monitoring and  management solution developed by RUMM  will be a game changer for our USA customers."